Swansea's new local TV station goes on air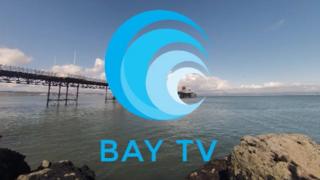 A new local TV station is launching in Swansea.
Bay TV will broadcast to large parts of south west Wales from studios in the city centre.
It will provide a mix of news, sport and entertainment to viewers on Freeview, Virgin Media and online.
It is the second local television station to launch in Wales after Made in Cardiff went on the air in October 2014.
Bay TV said it would show locally-produced programmes and live shows, alongside some content provided by the UK's 21 other local TV channels.
Under an agreement reached by the UK Government when it introduced local TV stations, £140,000 from the BBC licence fee will support Bay TV in its first year, with additional licence fee funding secured for a further two years.
In return, Bay TV will provide some of its content free of charge to the BBC.
The station's new studios are located on the campus of the University of Wales Trinity Saint David, and students will be involved in making programmes.
Other presenters include Cai Williams, a former contestant on The Voice, former BBC Wales presenter Gaina Morgan and local radio DJ Phil Hoyles.
Peter Townsend, chairman of Bay TV Swansea, said they had been able to look at other local TV stations in Liverpool, Cardiff, Brighton and Birmingham, which had been helpful with developing programmes and scheduling.
"We know there is a local audience there," he said.
"It's untested. But if you go back about 40 years there was no local radio, now look at where that is. We hope we're at the beginning of a movement towards local TV being a standard across the UK."
They will be broadcasting across as far west as Burry Port and Cross Hands and to Port Talbot in the east.
Mold in Flintshire is the only other area to be awarded a licence, although attempts to get that channel on air have been hampered by technical hold-ups.
They have got until November to start broadcasting or their licence expires.
And it can be a bumpy ride. Made in Cardiff has had a high turnover of staff, and faced a sanction by Ofcom for broadcasting bad language and nudity during its daytime schedule.
Its owners claim more than 380,000 people watch the channel every month, and it has made a point of focusing on local events, sports teams and Cardiff personalities to make it stand out.
Dr John Jewell, director of undergraduate studies at Cardiff University's school of journalism, said indigenous programmes already produced by Made In Cardiff seemed to have captured the imagination of viewers by using local talent.
"I see no reason why it can't work," he said of Bay TV.
"The potential audience is smaller than the Cardiff area but I think there is a need for local news and if they provide enough of that they should attract the advertisers, which is the key to the success of any company these days."
Dr Jewell said developing an online platform would also be key.
In Swansea the organisers are optimistic that Bay TV can make an impression on the local audience, as long as they decide to tune in.