Thousands cheer on Long Course Weekend triathletes in Tenby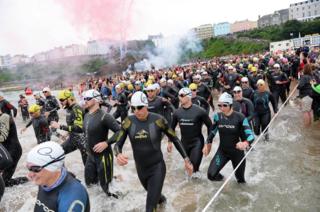 Pembrokeshire is hosting one of the most challenging triathlons in Wales - The Long Course Weekend.
Attracting some of the best triathletes from all over the world, the three day event began on Friday with a 2.4 mile (3.9km) swim from Tenby's North Beach.
The 112 mile (180km) bike ride takes place on Saturday followed by the 26.2 mile (42.2km) marathon on Sunday.
The event, which began in 2010 and is seen as a warm up to Ironman Wales, attracts thousands of spectators.
Around 200 triathletes are taking part in the full distances and their collective times over the weekend determines who wins.
Hundreds of other competitors are taking part in shorter distances.
There was also a special event for children on Friday, which saw them take part in a short swim and run.
There will be road closures during during the cycle and run. A full list can be found here.