£750k loan scheme for Llanelli town centre buildings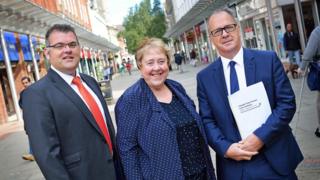 Up to £750,000 is being made available to help bring empty and derelict buildings in a Carmarthenshire town back into use.
Carmarthenshire council will be making loans available to eligible applicants who wish to regenerate properties and redundant development sites in Llanelli town centre.
Interest free loans from £25,000 are on offer, repayable over five years.
It is hoped they will improve the vibrancy of Llanelli town centre.
Cllr Emlyn Dole, leader of the council and chair of the Llanelli Town Centre Taskforce, said it was a good opportunity for businesses, landlords and developers to kick-start regeneration projects for the benefit of the town.