Withybush Hospital's new chemo unit 'wonderful news'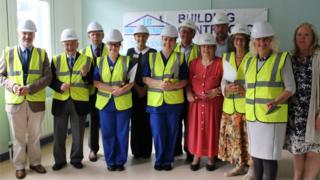 Construction work has started on Withybush Hospital's new chemotherapy day unit in Pembrokeshire.
More than £670,000 is being contributed to the project by Adam's Bucketful of Hope, Withybush Hospital Cancer Day Unit Appeal and the health board's Pembrokeshire Cancer Services Fund.
The estimated total cost of the project is £926,000, with the balance being met by the health board.
The new unit will allow patients to be treated closer to home.
Christine Evans-Thomas who set up the Adam's Bucketful of Hope charity in memory of her son, said the CDU has taken "almost 14 years and many battles" to reach fruition.
"It's wonderful news for cancer patients in Pembrokeshire," she said.
"We will have our own Chemotherapy Day Unit for patients, their family and friends right on our door step."
The CDU will be located on the first floor of the hospital and is due for completion by December 2016.