Wales National Airshow sees 'record' crowd at Swansea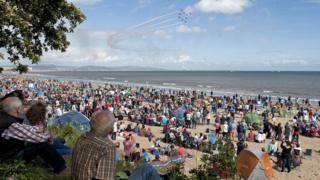 An estimated 200,000 people watched this year's Wales National Airshow over Swansea Bay, according to the council.
The two-day annual event, which concluded on Sunday, included a Battle of Britain Memorial Flight and a Russian-built Cold War MiG aircraft.
Swansea councillor Robert Francis-Davies said: "We're certain it was a record-breaking weekend.
"The vast numbers who came along for the two days will have been a valuable boost to city centre businesses."