Thousands expected for Wales National Airshow in Swansea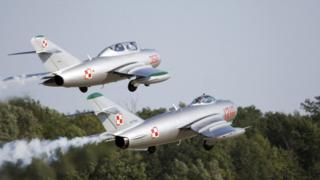 Thousands of people are expected in Swansea for this year's Wales National Airshow.
The two-day event, which started on Saturday, features aircraft including the MiG-15 UTI in honour of Russian-Soviet pilot and cosmonaut Yuri Gagarin.
In 1961, Mr Gagarin became the first person to journey into outer space.
Other displays include the Breitling Wingwalkers, the Tigers parachute team and the Red Arrows.
Robert Francis-Davies, of Swansea council, said: "It's great news for Swansea people and Swansea businesses, helping pump millions of pounds into the local economy over the course of a single weekend."