Pembrokeshire drugs gang jailed for £1m cocaine shipping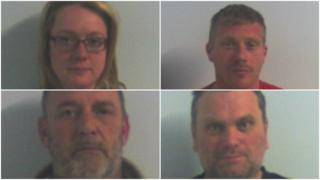 Members of a drugs gang who shipped more than £1m worth of cocaine into Pembrokeshire have been jailed for 48 years between them.
A Swansea Crown Court judge told the defendants "they must pay the price".
The gang, he said, had made huge amounts of money out of west Wales while "destroying lives."
The "head" of the gang, businessman James Bolton, 48, of Johnston, was jailed for nine and a half years.
Detectives bugged his business, Station Automotives, and heard him discussing drugs deals.
His then partner, Siobhan Jackson, 39, was jailed for five years and four months.
Leigh Salter, 37, Milford Haven, said to be the "main man" in Milford Haven, was also jailed for five years and four months.
Andrew Davies, 54, of Hill Street, Haverfordwest, who made four drugs runs as a courier in return for £700, was sent down for four years and four months.
David Parker, 41, of Milford Haven, was caught by detectives as he collected drugs. Said to be an active charity fundraiser, Parker was jailed for 16 months, suspended for two years.
All five admitted conspiring to supply cocaine between 1 September, 2012, and 22 April, 2015.
Three men and one woman from Staffordshire and Liverpool were also jailed for a total of 22 years and eight months.
'The ugly truth'
Judge Paul Thomas told all the defendants they had known the risks.
"You took a gamble and lost. Now you must pay the price," he said.
"Cocaine is often referred to as a leisure drug, but that hides the ugly truth, that it destroys lives and families.
"But each of you took a deliberate decision to get involved in this illegal activity."
A Proceeds of Crime investigation is underway to identify drugs profits that could be confiscated.