Swansea landlord killer David Ellis jailed for life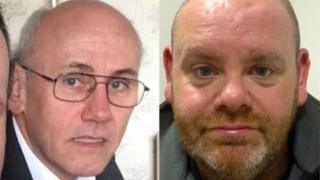 A tenant who murdered his landlord in Swansea and dumped his body 140 miles (225km) away in north Wales has been jailed for life.
Alec Warburton, 59, was hit in the back of the head with a hammer by David Ellis, 41, at his Sketty home in July.
His body was found dumped in a disused quarry in Dolwyddelan, Conwy county, last September.
Ellis was sentenced to a minimum of 26 years after being found guilty at Swansea Crown Court on Wednesday.
Judge Mr Robin Knowles said the murder was carried out in the "expectation of gain" with aggravating features including planning and concealing Mr Warburton's body.
"It was a case of particularly high seriousness," he said.
Ellis had already admitted killing his landlord, but claimed it was following sexual advances from Mr Warburton.
He drove Mr Warburton's car with his landlord's body inside and dumped it in the disused Prince Llywelyn slate quarry, which he was familiar with from his childhood.
He sent his fellow housemates a letter pretending to be Mr Warburton telling them he was "going away for a while" and that "Dave" would collect the rent.
Unemployed Ellis returned home before catching a ferry to Northern Ireland and travelling to the Republic of Ireland, where he was eventually arrested.
He confessed to the Garda in Ireland where he had dumped Mr Warburton's body.
The trial was told Mr Warburton had three major skull injuries.
After the trial, Felicity Galvin, senior crown prosecutor for the Crown Prosecution Service, Wales, said Ellis had gone to "great lengths to plan the attack and then attempt to cover his tracks".
Ellis's defence was that he hit out, alleging that Mr Warburton had suggested they should do "things of a sexual nature" after he went into arrears with his rent.