Archaeological dig in Llangwm unearths the unexpected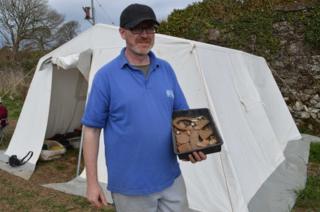 An archaeological dig in Pembrokeshire has unexpectedly uncovered part of a Stone Age site.
The dig involving Heritage Llangwm volunteers and the Dyfed Archaeological Trust has been taking place on a farm near Llangwm.
They initially set out to learn more about the village's 12th Century Flemish founders, but instead unearthed flints from Mesolithic times.
They are thought to be between 6,000 and 8,000 years old.
Experts analysing the flints have found mineral deposits on their surfaces which may have had a protective effect, making it easier to work out their use.
James Meek of Dyfed Archaeological Trust described the site as "very interesting" and said the finding was "unexpected".
"It's too early to say if it is of national importance - more work is needed to confirm this," he added.
Mr Meek will be talking about the results of the dig at Llangwm Village Hall on 2 July at 14:00 BST.