Llanelli's Parc Howard development signals 'new era'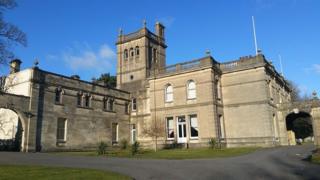 Plans for a "new era" for a mansion in Carmarthenshire have been unveiled.
Parc Howard was gifted to the people of Llanelli in 1912 and is run by Carmarthenshire council.
The council proposes the "sensitive commercialisation" of the mansion house, allowing it to host private events such as weddings.
There would also be a specially commissioned play area for children with a giant trampoline.
Council leader, Cllr Emlyn Dole said the developments marked a "new era" for Parc Howard.
"The park still is, and always will be, owned by the people of Llanelli, but we want to make the most of it," he said.
The plans include using the mansion as a regional centre for genealogy and the former cafe, which adjoins the mansion, would be brought back to life serving afternoon tea.
Cllr Dole added that the council has allocated funding to kick start the development and would be speaking to the local community before securing planning permission.