Ex-soldier dies after being Tasered by police in Llanelli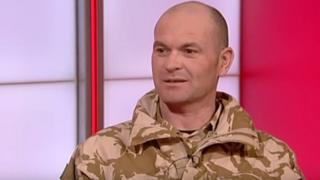 A former soldier has died after being Tasered by police in a Carmarthenshire town.
The Independent Police Complaints Commission said officers were called to Llanelli following concerns about the welfare and behaviour of Spencer Beynon, 43.
Mr Beynon, who friends said had mental health problems, was Tasered on Tuesday evening. He later died.
Dyfed-Powys Police referred the case to the IPCC, which is investigating.
Mr Beynon was a former member of of the Royal Welsh Regiment who toured Iraq and Afghanistan and served in the Army for 15 years.
He was later diagnosed with post-traumatic stress disorder.
Police were called to Maes Y Bwlch in the Morfa area of Llanelli at about 19:35 BST after eyewitnesses said they saw a man armed with a knife looking "totally out of it" before stabbing a dog and then himself.
Several neighbours reported hearing an "almighty commotion" before the arrival of several police cars.
Halder Monteiro, 43, who lives nearby, was among those who saw the incident unfold.
"I was in the house and I could hear lots of shouting and at first I just thought it was kids messing around," he said.
"I then went out to see what was going on and I could see a guy in the street who looked totally out of it. He didn't seem himself - as if he wasn't there.
"He just had this look in his eyes. You could tell he wasn't acting rationally.
"He then started hitting his head against a window several times and looked to be holding a dog in his arms.
"After police used the Taser he fell to the floor and the dog he was carrying was crawling on its back legs. It looked injured."
Other neighbours said they had seen Mr Beynon stab himself and the dog with a kitchen knife.
It is thought Mr Beynon, who did not live in Maes Y Bwlch, had been visiting a friend in the street.
Councillor Robert Davies, 61, said: "It is very sad. He was a nice guy, always had time to say hello, very pleasant."
Friend Tom Nasmyth-Shaw said: "He had served in the Army all around the world - I think the whole town was incredibly proud of him.
"Spencer was massively for the community and he would do anything to help anyone.
"I think he will be best remembered for his loyalty - it was everything to him."
'Full investigation'
The IPCC said police officers were called by a member of the public who had become concerned about the welfare of the man who appeared to be injured.
They "engaged with the man" before it is understood a Taser was discharged.
"The man became unresponsive and was subsequently pronounced dead," an IPCC spokesman added.
A spokeswoman for the force said: "A full investigation has commenced and Dyfed-Powys Police referred the matter to the IPCC, who will now conduct an independent investigation.
"We are fully co-operating with them. Our thoughts are with the family of the man."
The IPCC said a formal identification was yet to take place and a post-mortem examination was expected to be carried out tomorrow.
IPCC Commissioner for Wales, Jan Williams, said: "This was a traumatic event for all involved and I send my sympathies to the man's family and friends at this difficult time.
"We have begun a thorough investigation into the police interaction with the man, which will run alongside Dyfed-Powys Police's criminal inquiry into how the man sustained earlier injuries."