Missing ferry crewman: Pembroke Dock public appeal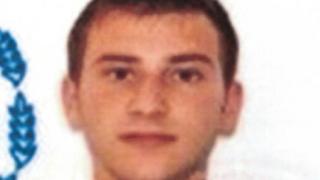 Police have appealed for help in the search for a crewman who, it was initially feared, may have gone overboard off the Pembrokeshire coast.
The alarm was raised about Marian Neagu, 29, after the Irish Ferries service from Rosslare arrived in Pembroke Dock.
The Dyfed-Powys Police appeal came after Irish Ferries said he may have walked off the boat.
He was last seen 45 minutes before the ferry docked on Thursday at about noon.
Romanian Mr Neagu is 5ft 7 in (1.70m), with average build and dark hair.
He was believed to have been wearing civilian clothing.
Mr Neagu has worked for the company for more than a year as part of the catering staff on the Isle of Inishmore ferry.
A company spokesman said: "He was last seen as the ship was entering the port and when it was on the return leg he failed to take up his position.
"We just don't know where he is. Technically speaking it is possible that he walked off in Pembroke - it brings hope obviously because Irish Ferries are quite distressed.
"This is the first time in my memory for a crewman to go missing."
The Coastguard Rescue Helicopter 187 from St Athan and RNLI lifeboats were involved in the search, which included an area several miles off St Anne's Head.
Irish Ferries said a "top to bottom, thorough search" was carried out before the Coastguard was alerted when the man could not be found.
The vessel was given authority to continue to Rosslare, where a further search was carried out without success.