Plaque to remember Waldo Williams' iconic poem, Cofio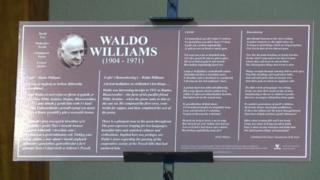 A plaque has been unveiled in a Pembrokeshire village on to remember an iconic poem.
Cofio (Remembering) was composed by Waldo Williams in 1931 when visiting his great friend Willie Jenkins in Rhoscrowther, near Pembroke.
It expresses a distant longing for lost civilisations.
The plaque was unveiled by former First Minister Rhodri Morgan and his brother Prys, and followed by a reading and lecture.
Their father, Prof TJ Morgan played a significant role in ensuring Waldo Williams' release from military conscription in 1942.
The unveiling was organised by Cymdeithas Waldo and took place in Rhoscrowther Hall.