Swansea dock to host Coleridge in Wales Festival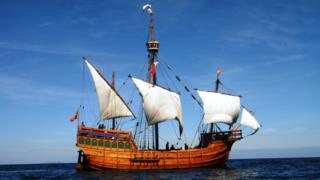 A replica of a medieval ship is sailing into Swansea as part of an 80-day cultural festival.
The University of Wales Trinity Saint David and Swansea council have joined forces to bring the Coleridge in Wales festival to the Prince of Wales dock.
Events taking place on Friday and Saturday celebrate the voice of poet Samuel Taylor Coleridge.
There will be tours of the ship which is themed around Coleridge's poem The Rime of the Ancient Mariner.
The ship is complete with a ghost crew of zombies, scorched decks and the ancient mariner himself carrying a dead albatross.
Samuel Taylor Coleridge set off on a tour of Wales in 1794 with the landscape inspiring some of his most important works.
The festival will see a band of artists, performers and storytellers retrace his footsteps.