Farmer's daughter Eirian Davies has £1.3m payout cut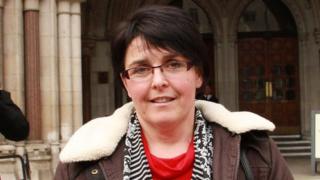 A Carmarthenshire farmer who received a £1.3m payout for working on her parent's farm on "meagre wages" has seen her payout slashed to £500,000.
Eirian Davies, 47, looked after the cows on Henllan Farm in Whitland while her two sisters were out having fun.
Her parents told her she would inherit most of the farm as recompense, but changed their will to put it in the trust of all three sisters equally.
The Court of Appeal said the original amount was "far too generous."
The ruling follows a long dispute between Miss Davies and her parents Tegwyn and Mary Davies.
It began with an altercation in the milk parlour in 2012 when Mr and Mrs Davies tried, but failed, to evict their daughter from Henllan Farmhouse.
Miss Davies sued her parents, claiming they promised her the lion's share of the 182-acre dairy farm on which she had spent 25 years milking cows.
She told the court she missed out on going to Young Farmers' Club dances with two sisters as a teenager because she had to "stay home with a muck fork".
"Even on my birthday, when the other girls were having things, they would say - 'you will have the damn lot one day'," she added.
Her parents argued she would have done no better financially had she worked away from the farm, insisting she earned a fair income and received free bed and board.
The Court of Appeal upheld Miss Davies's right to a stake in the farm and in February last year, she was awarded £1.3m.
However, senior judges in London ruled that amount was too much
They also gave Miss Davies 12 months to leave the farm, which has been "in lockdown" due to a TB outbreak.
Mr and Mrs Davies's QC, Simon Fancourt, said the payout was "hugely disproportionate," and was wrongly based on the assumption that Miss Davies expected to "inherit the whole lot" on her parents' death.
The legal costs of the case are expected to come to a high six-figure sum, further depleting the family fortune.