Dog walkers warned after palm oil washes up on beach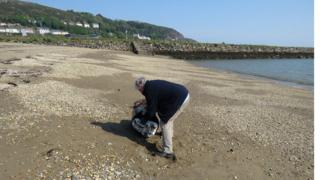 Dog owners have been warned after a large deposit of palm oil washed up on a Pembrokeshire beach.
It was found on Goodwick Parrog on Thursday and while it is not harmful to humans, it can be fatal to dogs.
The 30kg (66lb) lump has been removed by Sea Trust and reported to Natural Resources Wales.
Sea Trust director Cliff Benson said: "It's a sunny day and children are expected on the beach so we took the decision to move it."
"It's like a big lump of cheese with an unpleasant smell," he said.
Mr Benson said as well as being harmful to dogs, palm oil can also be dangerous to sea life like basking sharks and sperm whales, which could swallow it whole.
Palm oil is a common ingredient in food such as margarines, biscuits, bread, chocolate and ice cream, as well as shampoo, lipstick, candles and detergent.
A Natural Resources Wales spokesman said they are investigating the report.