Drink and drugs blighting Swansea city centre, claims trader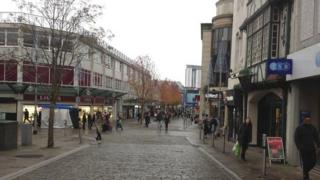 Drugs, drunks and dirt have made Swansea an "intimidating" place to be, a local trader has claimed.
Tim Rusbatch has lived and worked in the city for more than 20 years and believes it is on a "downward spiral."
He said the city centre has been blighted by people drinking, shouting, swearing and taking drugs.
Both Swansea council and South Wales Police said they are working to make the city a "clean" and "safe" place.
Mr Rusbatch, who manages the Health & Herbs shop in Picton Arcade, said the state of the city centre is driving people away.
'It's filthy'
"Just last week I opened the back door to take a delivery and found 16 needles on the floor," he said.
"And when I was leaving work recently I saw five or six people sitting on a bench pouring a bottle of vodka into cans."
Litter, bird excrement and people sleeping rough in empty shops are also concerns.
"Swansea is home to a premiership football team," said Mr Rusbatch.
"What must people think when they get off the train and see the state of the place? It's filthy."
Mr Rusbatch wants a zero tolerance approach to address the issues, including introducing a ban on alcohol in public places and a tough stance on anti-social behaviour.
Increased patrols
City centre Ch Insp Chris Truscott said police have increased the number of foot patrols and that their priority is to maintain a "safe environment", allowing people "to go about their business without feeling intimidated by a small number of people".
Swansea council said it too was working to improve the city centre.
A spokesman said: "We invest a lot of money and effort into keeping Swansea city centre clean and litter free.
"The main city centre core is cleansed every day before shoppers and workers enter and litter picks are carried out during the day."
The spokesman disagreed with claims that shoppers were being driven away, adding sales in Swansea city centre in February and March were both up on the same month last year which bucked the national trend.