Pembrokeshire fisherman search ends after boat sinks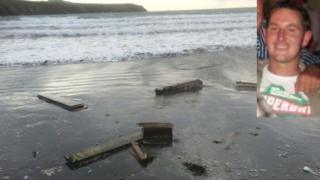 The search for a fisherman missing since his boat sank in Pembrokeshire has been called off, the coastguard have said.
Daniel Willington, 32, from Carew, has been missing since his boat smashed into rocks on Thursday, with his dad Gareth, 59, dying after the incident.
It happened off St David's Head, with five lifeboats, a helicopter and local fishing boats involved in the search.
Milford Haven Coastguard said on Monday the search had finished.
A minute's silence WAS held at a football match in the men's home village on the weekend.
Secretary of Carew FC Jeremy Griffiths said: "The tragedy has hit the whole village, we are a small and close community."
Wreckage from the boat - The Harvester - has been found over a four mile (6.4km) area.