Baby painkiller murder: Mother launches new appeal bid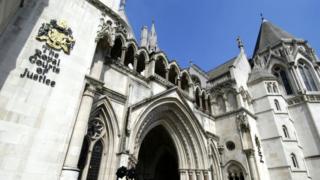 A woman jailed for life after being convicted of her baby's murder has won the right to have her case re-examined by the Court of Appeal.
Michelle Smith, 38, formerly of Swansea but now from Neath Port Talbot, denied poisoning six-week-old Amy.
She was found guilty and ordered to serve at least 12 years in prison at Swansea Crown Court in July 2012.
Judges have now granted her permission to resurrect a previously abandoned bid to overturn her conviction.
Sitting at London's Criminal Appeal Court on Thursday, Mrs Justice Andrews warned despite clearing the first hurdle, Smith still faced "formidable obstacles" to clearing her name.
'I did it'
The court heard Amy died in hospital after the adult painkiller dihydrocodeine was found in her blood in 2007.
Four years later, Smith - now of Brynawel, Cimla, but previously of Morriston - walked into a police station, in January 2012, and said: "I did it", before retracting her confession minutes later.
She later denied responsibility but was found guilty by a jury, Lady Justice Hallett, Mr Justice Blake and Mrs Justice Andrews heard.
Trial judge Mr Justice Spencer said only Smith knew why she "chose to deliberately administer that drug to a helpless baby".
The appeal court heard she subsequently lodged a bid for permission to appeal in 2013, but that was abandoned without her knowledge.
Mrs Justice Andrews said: "She knew nothing about it at all and those who abandoned it had no authority to do so.
"This court has no choice in the circumstances but to treat the abandonment as a nullity."
A single appeal court judge will now re-examine the merits of the case and, if necessary, grant an extension of time for her to lodge an appeal.