Planned South Hook gas power station at Milford Haven is axed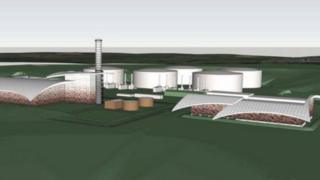 Plans for a combined heat and power station at a Milford Haven gas storage plant have been axed.
The UK government had given the green light for the 500MW station to be built at South Hook.
But in an email sent to Milford Haven Town Council, the company behind the plant said it had cancelled the plans because of "current market conditions".
A spokesman said stakeholders were told earlier this month but "events had moved on".
He added: "It would be inappropriate to comment further."
The plans for the power plant were granted planning consent in October 2014 but were deferred in February 2015.
'Difficult decision'
About 600 construction jobs were expected to be created by the project, along with 30 permanent jobs at the site, which was next to the existing South Hook Liquefied Natural Gas terminal.
But the email to the council said it was being cancelled "in the light of current market conditions and the international competition for project funding".
"The decision not to proceed with the South Hook CHP Project was a difficult one for the shareholders to make and reflects the fact that in the light of today's market conditions all discretionary major investments have to be rigorously appraised," it added.
The project was a partnership involving Qatar Petroleum, Exxon Mobil and Elf Petroleum UK, who said their decision to put the plans on hold had been "difficult".
Stephen Joseph, county councillor and mayor of Milford Haven, said he felt "sadness" at the news, adding that the town "survives on jobs like this".
"When you have something of this magnitude just being called off now, it hits. It hits the local economy," he added.