Carmarthenshire farm couple challenge daughter's £1.3m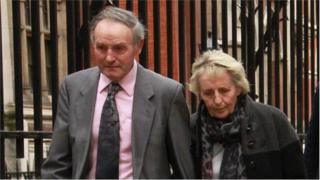 A couple is appealing against a judge's decision to award their estranged daughter £1.3m to make up for low-paid work she carried out on their farm.
Eirian Davies, 46, worked long hours at Caeremlyn Farm, Carmarthenshire, but was assured by her parents Tegwyn and Mary Davies that she would eventually take it over, the Appeal Court heard.
But they later said they wanted it in a trust for all three daughters.
Miss Davies was awarded a share of the business in 2015 after a legal battle.
Three Appeal Court judges had previously ruled that she was due a stake in the thriving 182-acre farm in Henllan Amgoed, Whitland, after working for little money over 25 years, although she had taken sporadic breaks.
Miss Davies told how she missed out on going to Young Farmers' Club dances with her two sisters as a teenager because she had to "stay at home with a muck fork", tackling her farming chores.
"They always told me that the farm would be left to me," she told an earlier court hearing.
She claimed she could have "made a better life elsewhere", but her 75-year-old father and mother, 76, insisted she had earned a fair income during her time working on the farm. They said she was also provided with free "bed and board".
The court heard that by 1989, when she turned 21, Miss Davies was the only sister left at the farm, "her sisters having departed to follow other paths".
In 2009, she was shown her parents' draft will, which left the lion's share of the farm to her.
However, the couple later proposed placing the farm in trust for the benefit of all three sisters equally.
The legal dispute started following an "altercation" in the milking parlour in 2012, after which Miss Davies' parents tried to evict their daughter from their farmhouse.
Later, Judge Milwyn Jarman QC ruled Miss Davies was entitled to a beneficial interest in the family's farming business, prompting her parents to challenge that ruling in the Appeal Court.
That appeal was dismissed but they are now appealing the sum of money awarded to their daughter - £1.3m.
The couple's QC, Simon Fancourt, told the Appeal Court in London that Judge Jarman unfairly "worked on the basis that there was an expectation of inheriting the whole lot".
Lord Justice Patten, Lord Justice Underhill and Lord Justice Lewison, who are hearing the case, are expected to reserve their judgment to a later date.