New Carmarthenshire archive approved after mould outbreak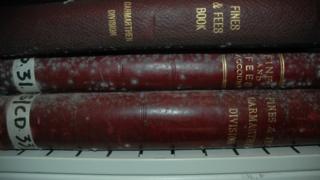 A £2m purpose-built home for Carmarthenshire county's archives is to be built after the council gave plans the green light.
Concerns were raised about the long-term safety of the collection following an outbreak of mould at the current Parc Myrddin site.
The new facility will be built at the back of Carmarthen library.
Documents will be stored at archives in Cardiff and Swansea until work on the new building is complete.
A specialist firm was called in last year to clean documents which had been blighted by the outbreak.
Council leader Emlyn Dole described the collection as "one of the best archives" in Wales, and said the documents would now be kept "in the right place and in the right way".
Executive board member Meryl Gravell confirmed the future management of the Carmarthenshire archives was still being discussed with neighbouring local authorities.