Pembrokeshire wakeboard park set for planning approval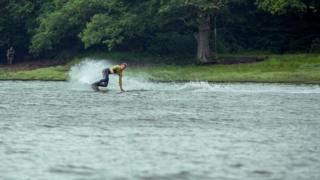 Pembrokeshire could soon be home to a brand new wakeboard park.
A planning application from Mark, Sarah and Stephanie Harris is due to be discussed by Pembrokeshire council on Tuesday, 19 April.
The siblings have already bought a plot of land near Oakwood Theme Park and plan to create a lake and cable system to tow wakeboarders across the water.
If approved, in line with the recommendation, the park could be up and running by Easter 2017.
Mr Harris said he and his sisters have all grown up in Pembrokeshire and want to create something new and exciting that would appeal to both tourists and locals.
"We are all passionate about the sport and with the success of other wake parks in the UK, we knew building one in Pembrokeshire would be a great opportunity," he said.