Haverfordwest students protest to save school sixth form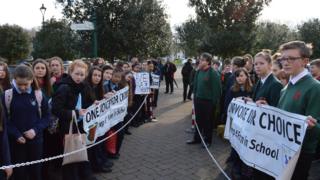 About 100 students protested against planned sixth form closures in Pembrokeshire.
Students from Sir Thomas Picton and Tasker Milward gathered on Thursday - the final day of a consultation into secondary education.
Pembrokeshire council has proposed closing the two schools to create a new 11-16 school, and moving sixth form provision to Pembrokeshire College.
The students accept a new school is needed, but want a sixth form there.
Year 11 student Hannah Wood said everyone should have a choice to go to a sixth form in a school.
"The younger pupils look up to sixth formers," she added.
This was the third time the council has gone out to consultation on the future of secondary education in Haverfordwest.
"We are determined to get this process absolutely right for the sake of our children's education," said Kate Evan-Hughes, director for children and schools.