Little Haven alternative flood defence plans unveiled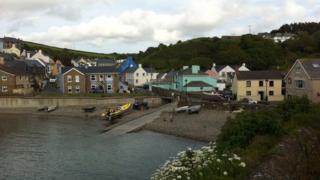 More than 50 people attended a public meeting in a Pembrokeshire village to discuss alternative flood defence plans.
Pembrokeshire council was granted planning permission for a scheme at Little Haven last May, but some locals were unhappy about its appearance.
The plans included constructing a rock barrier along the eastern sea wall.
Engineers have been back to the drawing board and come up with an alternative suggestion for the village.
The option discussed at the meeting was building up the existing shingle bank in front of the sea wall to break up the waves which contribute to the flooding of properties.
It would be similar to a flood defence scheme adopted at Amroth.
The council's head of highways and construction, Darren Thomas, said: "What we're trying to put forward is in-keeping with the environment and deals with the real flooding problems."