Children's counselling service to close this summer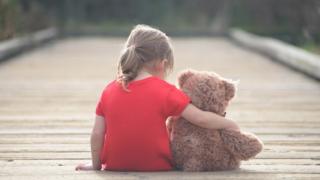 A Pembrokeshire-based counselling service for bereaved children will close this summer, despite a passionate campaign to save it.
Based in Neyland, Sandy Bear is run by Hywel Dda University Health Board and funded by Pembrokeshire council.
Last month the council revealed it "may not be possible" to continue the current level of funding as a result of UK and Welsh Government cuts.
It has now been confirmed by the health board that Sandy Bear will end in June.
Specialist service
Sandy Bear has been offering specialist grief counselling to young people dealing with the loss of a loved one for 20 years.
Nina Evans' family was among those to benefit following the death of her husband in 2011.
Her five-year-old son, who was struggling to come to terms with the loss, attended weekly sessions with Sandy Bear.
"I would hate to think what dark place he would be in now if he had not been lucky enough to have that support," said Nina.
"Heartbroken"
Nina set up an online petition to save the service, which attracted almost 4,000 signatures.
She said the latest news has left her "totally gutted" and "heartbroken".
Libby Ryan-Davies, Hywel Dda Health Board's director of mental health and learning disabilities, said "bereavement services will continue to be delivered" and that Sandy Bear staff will be supported during "this difficult period".
She explained there was an emotional health and well-being service, commissioned by Pembrokeshire council, which was delivered by "highly qualified professionals," and that all young people using Sandy Bear would continue to receive support and would "not be disadvantaged in any way".
A Pembrokeshire council spokesman added that every secondary school in the county had access to a school counsellor, and that it was in the process of developing a new role of emotional and learning support assistants in schools.