Policeman injured after being struck by a car Haverfordwest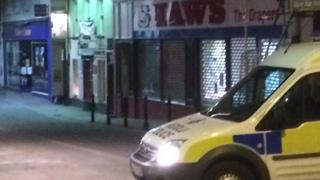 A policeman has been hurt after being struck by a car while on duty in Pembrokeshire, Dyfed-Powys Police has said.
The officer, who was in uniform, was in collision with a silver Ford Mondeo as he walked out of an alleyway in Haverfordwest on Tuesday.
He is currently being treated at the town's Withybush Hospital following the incident on Bridge Street at 18:35 BST.
His injuries are not thought to be life-threatening.