Swansea prison staff criticised over Scott Bevan's death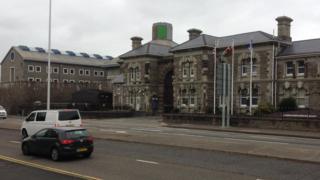 Prison staff have been criticised after an inmate was found hanged in his cell on the eve of his 22nd birthday.
Scott Bevan was only a few days into his eight-month sentence when his body was found on 18 September 2010.
An inquest heard a nurse at Swansea prison failed to fill out notes properly when assessing him on arrival while a warden refused to give him paracetamol the night before he died.
The death has been investigated by the Prisons and Probation Ombudsman.
Swansea Coroner's Court heard Bevan had taken heroin on the day of his arrival and was on anti-depressants.
He had been sent to the city's prison for breaching a community order for assault occasioning actual bodily harm.
Jurors heard Bevan had previously served time at Parc Prison in Bridgend, had self-harmed in the past and was a drugs user.
The court heard written evidence from senior prison officer Alun Davies, which said there was "no risk of self-harm" and Bevan was suitable for cell sharing.
Amanda Davies, a mental health nurse at the prison, said Bevan "showed no indication of self-harm" and was "positive about being in prison" and getting clean.
Coroner Caroline Sumeray told Mrs Davies she had let herself and the prison down on leaving out information in the paperwork which would have given a fuller picture about Bevan.
She was also critical of Swansea prison officer Mark Evans, who was on the night shift when Bevan died.
The inquest heard Bevan had twice rung his cell bell requesting paracetamol for a headache.
Mr Evans said it was not procedure to open the cell door to hand out paracetamol during the night, despite there being a nurse available.
He told Bevan to turn the lights off, get some sleep and that he would notify the doctor in the morning.
"In hindsight I should have called the nurse," he said. "But at the time he was okay and showing no signs of distress."
The coroner told Mr Evans: "You made it your decision not to give paracetamol. It should have been the nurse's decision."
The court heard Mr Evans received a code blue call from his fellow prison officer at around 06:00 BST.
He rushed to Bevan's cell and unsuccessful attempts were made to resuscitate him.
The inquest continues.