Work continues to reopen Pembrokeshire landslip road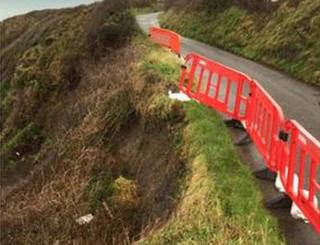 Work is continuing to reopen a coastal road in Pembrokeshire following a landslip at the end of December.
The landslip occurred at Settlands Hill, between Broad Haven and Little Haven, and the road has been closed to vehicles ever since.
Local residents have complained about a build up of traffic on the diversion.
Pembrokeshire council has been in talks with the private landowner about purchasing the land and says a scheme is "ready to be built."
It involves reconstructing the road inland and away from the area of the landslip.
The coast path trail remains open to pedestrians in the meantime.