Swansea woman finds fried 'use by' label in KFC chicken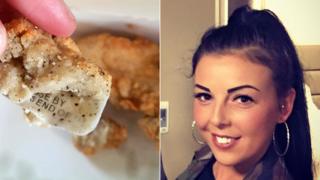 A KFC customer in Swansea was horrified to find a "use by" label cooked inside her chicken.
Lana Taylor, 23, found the fried label after buying a boneless banquet from the drive-thru in Llansamlet.
Ms Taylor, of Morriston, said: "It's disgusting and nobody should ever have to come across something like this in their food."
KFC apologised and said it had offered her a full refund and replacement meal vouchers "as a gesture of goodwill".
But Ms Taylor said she would "never eat in KFC ever again".