Morfa distributor road to be completed a year early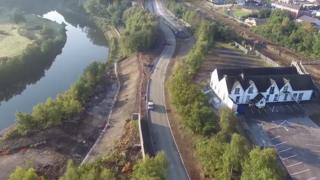 A £4.5m road which links Swansea city centre to the Liberty Stadium is set to be completed a year earlier than planned.
The Morfa distributor road runs parallel to the River Tawe and it is hoped it will also attract businesses to set up along the route.
It aims to cut traffic problems on Neath Road in Hafod which suffers from high pollution levels.
The April 2017 finish comes after a £1.1m Welsh Government injection.
Swansea council leader Rob Stewart, said: "The completion of the scheme a year ahead of schedule will assist us in unlocking further development in the area and making the area more accessible for the public.
"It will also assist in diverting some transport away from Neath Road in Hafod."