Swansea Bay promenade showered with drawing pins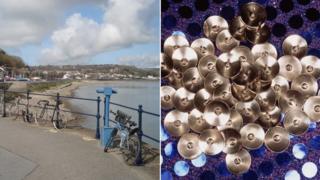 A warning has been issued after a stretch of the Swansea Bay promenade was showered with drawing pins.
Cyclists have suffered punctures and pet-owners and runners have been warned to beware along the three-mile (4.8km) route, from Mumbles to the centre of Swansea.
The council said the drawing pins, found at several locations, appeared to have been left "deliberately".
A spokesman said it was "extremely irresponsible and dangerous".
'Deliberate'
The council warned those planning to use the waterfront over the Easter weekend to be aware.
"Some cyclists have already reported punctured tyres because of the drawing pins," the spokesman added.
"We are asking members of the public who use the promenade daily to be the 'eyes and ears' of the council and the police by reporting anything suspicious they see on the seafront."
Swansea is also organising extra sweeps of the promenade.