Swansea launches drop-in centre for LGBT hate crime victims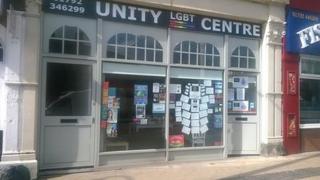 A new evening drop-in centre for victims of lesbian, gay, bisexual, and transgender hate crime is being launched in Swansea.
Police officers and staff from the Unity Group will be on hand to discuss LGBT issues.
Unity chief executive Andrew Davies said the aim was to build trust between the police and the LGBT community.
The fortnightly sessions will take place at the Unity Centre in High Street.
Mr Davies said: "We are trying to break down barriers so that people in the LGBT community feel able to talk to the police about their experiences.
"The only way we can tackle hate crime is if it is reported and if we provide a neutral space hopefully victims will feel more confident about coming forward."
The first evening session takes place from 19:00-21:00 GMT on Thursday 17 March.