Driver given £100 parking fine for spelling error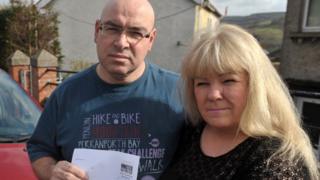 A driver is facing a £100 fine after making a mistake when entering her registration number into a parking machine.
Laura Ingarfield tapped a letter O instead of the number zero into the machine during a visit to Port Talbot's Aberavon's Reel Cinema.
Parking firm Minster Baywatch rejected her appeal against the fine.
Ms Ingarfield, of Cwmavon, Port Talbot, said: "It's disgusting. There is no way I will pay that fine."
'Breach of rules'
"It was a simple mistake that anyone could have made, and I don't think I should have to pay a fine for this.
"If I knew I had tried to get away without paying, I would have paid the fine.
"But I didn't do that. I think what they are doing is wrong."
A spokeswoman for Minster Baywatch said: "This was a breach of the site rules which make it clear the registration inputted must be complete and correct. As a result of this, a parking charge was issued.
"Minster Baywatch are happy we have acted appropriately throughout this process and Ms Ingarfield has been supplied with all necessary information, opportunities to appeal and a significantly reduced parking charge amount."