Report to prevent future deaths after lollipop lady dies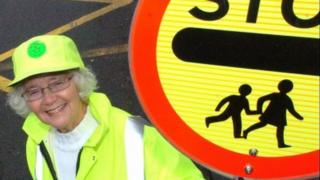 A coroner will issue a preventing future deaths report after a lollipop lady died of a brain haemorrhage.
Patricia Thomas, 80, from Swansea, died in October 2013 after she took the blood thinner warfarin and a gel prescribed by her dentist.
An inquest heard these may have contributed to the effects of the haemorrhage.
Swansea assistant coroner Paul Bennett recorded a narrative conclusion and will issue a report to health bodies.
Delivering his conclusion, Mr Bennett said he had a "fundamental concern about the causative effect of warfarin or Daktarin", but there was no evidence to suggest either had caused the bleed.
Mrs Thomas had used warfarin for many years but only began taking Daktarin gel to treat oral thrush 15 days before she died.
The inquest was told the gel's warning label would have stated it should be avoided by patients taking blood thinners because it can increase their effect, which can lead to bleeding.
The preventing future deaths report - which is issued when a coroner believes there is a chance others could die - will be given to health bodies including the NHS.
Mrs Thomas's dentist Andrew Llewellyn told the hearing he was not aware the gel could interact with warfarin.
He said he would not have prescribed it if he had seen guidance stating the risk associated with blood thinners and said measures had been taken at his practice "to make sure this doesn't happen again".
Mrs Thomas's daughter Wendy described her as "a special person" and said the family was glad the report had been issued.
"We won't rest until action is taken to prevent future deaths. It's our hope such action is taken and that no one else has to go through what we've been through," she said.