Haemorrhage 'exacerbated' Swansea lollipop lady's medication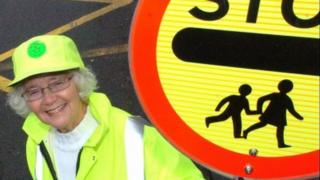 Human error could be the reason why medication was given to a lollipop lady who later died, an inquest has heard.
Patricia Thomas, 80, from Swansea, died from a brain haemorrhage in October 2013.
On Tuesday, the inquest in Swansea heard it could have been exacerbated by the interaction between the blood thinner warfarin and a gel prescribed by her dentist.
The inquest continues.
Mrs Thomas had used warfarin for many years but only began taking Daktarin gel 15 days prior to her death.
But the inquest was told the warning label would have stated the gel should be avoided for patients taking blood thinners, such as warfarin, as it could increase the effect which can lead to bleeding.
Warning label
David Andrew Gully, head pharmacist at the Co-Operative Pharmacy on St Helen's Road, told the inquest he was not sure if a warning label was placed in the medication basket during the assembly process - although he said it is pharmacy policy for this to happen.
When asked by the assistant coroner if he was aware Mrs Thomas used warfarin, Mr Gully replied: "Yes I was".
But he said that despite having previous experience with Daktarin gel, which is used to treat oral thrush, he was not aware of its interaction with warfarin.
Mr Gully said that if he seen the warning label in the basket, he would have considered other options such as calling Mrs Thomas' dentist Andrew Llewellyn, and she may have left the pharmacy without it.
'Safe level'
On Monday, Mr Llewellyn told the inquest her blood clotting levels were at a safe level when prescribing the gel.
Mr Llewellyn said her medical notes highlighted that she used warfarin but he was not aware the gel could interact with the anticoagulant drug.
"I have no idea why I wouldn't have seen the paragraph under anticoagulants. I wouldn't have prescribed Daktarin had I seen it," he added.
Following Mrs Thomas's death, Mr Llewellyn said he had taken measures at his practice "to make sure this doesn't happen again".