Hawks used to deter seagulls from Swansea Market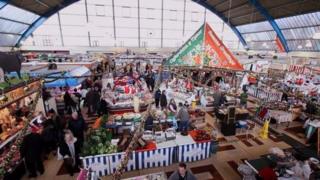 Specially trained hawks will be deployed to Swansea Market to keep seagulls away from its new roof.
Swansea council said gulls nesting and scavenging on the roof had caused problems with droppings, damage and blocked guttering.
The council has hired a firm which has successfully addressed similar problems across the UK.
It added the project was "not about harming the gulls" but to keep them away.
Robert Francis-Davies, cabinet member for enterprise, development and regeneration, said: "It's crucial we continue to do all we can to preserve the attraction.
"It's about using highly-trained hawks to act as a deterrent."
The project is supported by European and Welsh government grants.