Lightning 'may have sparked' Tata Steel fire in Port Talbot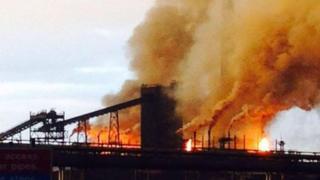 A blaze at the Tata Steel plant in Port Talbot may have been caused by lightning, initial investigations have suggested.
Crews were called to the blaze, which is believed to have started in the coke oven, at about 08:00 GMT on Thursday.
A Tata Steel spokesperson said: "Initial investigations suggest the fire was caused by a lightning strike."
The firm said there were no casualties and production had resumed by 17:00 GMT.
"It's as near business as usual," said a spokesman.
"The fire ensued within the coke ovens but we have gone through the main systems in the works and they are able to be up running again," he added.
Last month, Tata announced 750 job cuts at the site, among 1,050 across the UK.