Margam opencast mine restoration concerns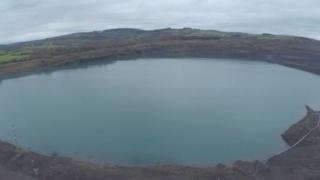 Concerns have been raised about the restoration of a former opencast mine site after a planning application was delayed.
Neath Port Talbot council admitted the timetable for improving Margam mine had slipped but said it should be completed by June 2017.
But residents living in nearby Kenfig Hill said they were not confident it would be up to the necessary standard.
The mine has not been in use since 2008 and is filled with water.
It is understood the opencast site - which was operated by Celtic Energy on land owned by Oak Regeneration - will undergo a partial, or alternative, restoration.
This means the water level in the void would be lowered, trees and shrubs would be planted and a public right of way would be created.
The council, along with the neighbouring Bridgend authority, Natural Resources Wales and the Coal Authority, had all previously agreed the work should be carried out within a strict time frame.
But the first deadline for the submission of a planning application to the local authorities in January was missed.
It then emerged the submission itself was deemed invalid by Neath Port Talbot council.
It will now be amended before going through the planning process again.
But those living close to the site said they were doubtful the work would be completed to an acceptable standard.
Jan Adamson, from the Kenfig Hill Pact community group, said when mining started at the site more than 20 years ago, residents were told there would be a full restoration, with the void filled in.
She said an alternative restoration was "no restoration at all".
"It won't make the site safe, it won't put the roads back and it will leave a flooded void," she added.
The restoration will be paid for with £5.7m taken from an account which was set up when coal mining started at Margam.
A Neath Port Talbot council spokesman said the amended application should be registered "shortly".
"It is acknowledged that the timetable has slipped slightly, however this does not undermine the original objective which is to secure an acceptable restoration of the site in a timely manner," he added.