Rock climber's death at Stack Rocks 'misadventure'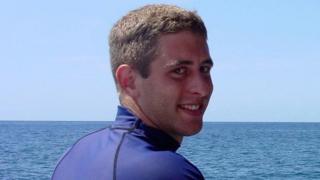 An experienced rock climber died after falling from a cliff on to rocks at a Pembrokeshire beauty spot, an inquest has been told.
Edward Alfano, 31, from the US, was found hanging upside down from ropes at Stack Rocks on 25 May.
Mr Alfano's friend, Alicia Lenis, told the inquest in Milford Haven she witnessed him "falling head-first".
Coroner Mark Layton ruled Mr Alfano died as a result of misadventure.
He added: "He was an experienced climber. We do not know exactly why he fell, but the injuries were fatal and sustained immediately."
Mr Alfano had been visiting the UK to attend a conference in London and was in Wales for a weekend of rock climbing.