Neath sinkhole filled with 64 tonnes of concrete and stone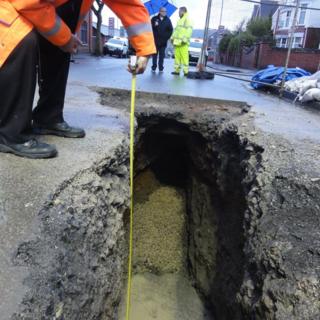 A sinkhole which forced the closure of a main road in Neath Port Talbot has been filled with 64 tonnes of stone and concrete.
Police sealed off Cimla Road, Neath, on Thursday morning following its discovery at the bottom of Cimla Hill.
Although it was only 1.5ft (0.5m) wide on the surface, the council said the void below was 20ft (6m) wide and deep.
The repaired road will be resurfaced once the concrete has hardened and is expected to reopen on Monday.
Refuse and recycling collections unable to take place because of the road closure will also be carried out Monday.