1,500 take part in New Year's Day Saundersfoot swim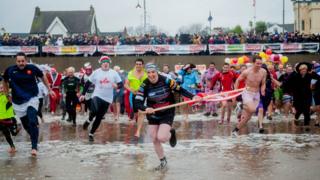 More than 1,500 swimmers in fancy dress have welcomed in the New Year at an annual swim in Pembrokeshire.
A mass dance warm-up took place at Saundersfoot before the swimmers braved the sea, cheered on by thousands of spectators.
Pembrokeshire-born adventurer Tori James, the first Welsh woman to climb Mount Everest, was on hand to start the swim.
Now in its 32rd year, the event has raised more than £500,000 for charity.
Highlights among the fancy dress included a large Star Wars Millennium Falcon and Mrs Brown's Boys.