Rain gardens planted in Swansea to tackle flooding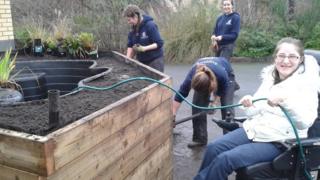 Rain gardens are being planted at Swansea Vale Resource Centre in a bid to combat flash flooding and encourage pollinators.
The centre, which supports people with disabilities, teamed up with the Wildlife Trust to create the gardens which fit on roofs or under downpipes.
The Sustainable Drainage Systems (SuDS) capture rain water which would otherwise be washed back into the drain system in urban areas.
This reduces the risk of flooding.
Staff and people who use the council-run centre will use native, nectar-rich plants, which will also provide food for pollinators such as butterflies and bumblebees.
Rose Revera, of the Wildlife Trust of South and West Wales, said: "Rain gardens are the perfect way to make your garden work for water and wildlife."