'More rigorous' female genital mutilation data needed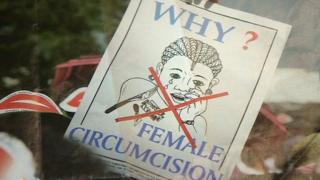 Collection of information on female genital mutilation needs to be "more rigorous", a conference has heard.
An audience in Cardiff heard calls for data, gathered from GPs and maternity services, to gauge the scale of FGM.
Some speakers at the event, organised by African women's rights organisations Forward and Hayaat Women Trust, said it was dying out in their communities.
Zainab Nur said "the majority" of Somali and Sudanese women in previous generations in Wales were FGM victims.
The practice is illegal in the UK and can cause serious complications during childbirth.
Ms Nur, a Hayaat founder member, said: "In the 1970s, 99% of girls in our community were done, but never here - they were taken back home.
"They thought it was a religious obligation - like male circumcision. FGM was part of the tradition they brought to Wales with them, along with language, culture and food."
'In the dark'
She said, thanks to a campaign, "we have third and fourth generation girls now who haven't been done because the community was educated about it".
Naana Otoo-Oyortey, executive director of Forward, queried whether pregnant women attending maternity units for the first time should be automatically asked about FGM, as they are about domestic violence.
"People may still be practising this but we don't have the data. We're not documenting this, but without data we are really in the dark."
South Wales Police said it has received five referrals relating to FGM since April - all relating to "concern for safety" - but none involved a criminal investigation.
New legislation which came into force from the end of October places an onus on professionals working in health, education or social services to report to police if they believe a girl under 18 has been subjected to FGM.
A report from HM Inspectorate for Constabulary earlier this week that warned police forces in Wales are not yet fully prepared to offer the best service to victims of FGM, honour-based violence and forced marriage.