Keith Hughes gets life for attempted murder of ex-girlfriend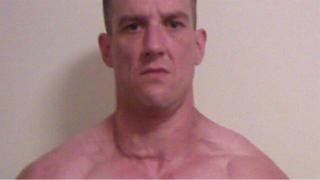 A man who strangled his ex-girlfriend and hid her in bushes on a coast path believing she was dead has been sentenced to life in prison.
Keith Hughes, 39, of Swansea, attacked Stacey Gwilliam at Langland Bay, Swansea, in July.
Hughes, who was convicted of attempted murder at Swansea Crown Court, must serve a minimum of eight-and-a-half years.
Judge Paul Thomas said he represented a "severe risk" of harm to the public.
Hughes strangled Miss Gwilliam on a footpath near Langland golf course and hid her "body" in bushes thinking she was dead.
But she woke up to find she had been covered in branches, leaves and ferns.
The pair had recently got engaged after Hughes was released from prison for three separate attacks on Miss Gwilliam and on the day of the attempted murder they went for a walk from Bracelet Bay to Caswell.
But they argued, and Hughes claimed she said she would get him sent back to prison by saying he had raped her, the court heard.
Hughes said he grabbed hold of her jumper and "my hands moved to her neck".
He said Miss Gwilliam lost consciousness and fell to the ground and he "panicked".
"I thought 'what have I done?' I was not intending to kill her. I must have put her in the bushes and put some branches over her," he said.
"I just felt terrible about what I had done. I thought she was dead. I just left."
Hughes was later arrested and told police his ex-girlfriend was dead and he had buried her, saying "you will never find her."
Sentencing Hughes, Judge Paul Thomas, said: "You wanted to see the terror and pain in her face at the closest possible distance.
"Chillingly you tried to break her neck. You thought at that point you had succeeded in killing her. It was an attempt to end the life of a vulnerable person."
Ms Gwilliam, who was in hospital for 26 days after the attack, including 14 in a medically induced coma, said she still suffers flashbacks and panic attacks.
Her victim impact statement read: "I will never ever forget what he did to me that day and what he did to me throughout our relationship and now I have to live with that for the rest of my life.
"I only hope he does too."