Pembrokeshire potato farmers named producer of the decade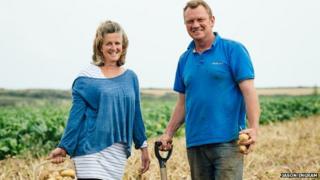 Potato farmers from Pembrokeshire have been named producer of the decade at the National Trust fine farm produce awards.
Peter and Gina Smithies of Trehill Farm were selected from the trust's 1,500 tenant farmers from across the UK.
They were praised for their consistently high-quality products and for farming with biodiversity and conservation benefits in mind.
The honour was given at the 10th annual ceremony in London.
In total, 37 producers were recognised in different categories for taste, environmental and production standards.