Couple win appeal to save 'hobbit home' in Crymych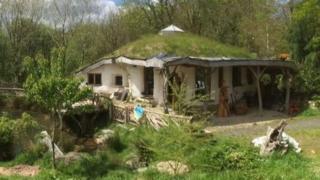 A "hobbit-style" roundhouse has been saved from demolition after its Pembrokeshire owners won their appeal.
Megan Williams and Charlie Hague built their eco-friendly home in her parents' garden in Glandwr, near Crymych.
Council officials rejected their retrospective planning bid last summer and the couple launched an appeal.
But the Planning Inspectorate allowed their appeal on Tuesday, saying it was "an acceptable form of residential development" in the countryside.
Planning Inspector Kay Sheffield said the development met the requirements of the Welsh government's One Planet Development policy.