Rhos Primary pupils go missing on school trip to Mumbles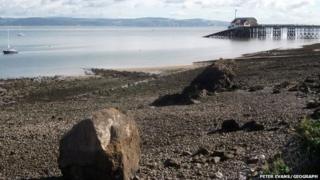 An investigation has started into how four primary school pupils went missing during a trip.
The pupils, aged eight and nine from Rhos Primary, Swansea Valley, were on a trip to The Mumbles, on Tuesday.
Police said they were called out and the pupils were reunited with a teacher about 10 minutes later.
School governor councillor Alex Thomas said: "There is an investigation going on to find out exactly what happened and how it came about."
He said: "This is a concerning incident. I completely understand why parents are worried.
"The school, council and governing body are taking it seriously."
Safety 'a priority'
A Neath Port Talbot council spokesman said the pupils had become separated from the main group towards the end of the day and police were contacted as soon as possible.
"Thankfully, the children were found safe and well and returned with staff to the school," he said.
"Pupil safety is a priority and whilst we know that risk assessments were in place and that guidance on the appropriate ratio of adults to children was followed by the school, we are treating this incident very seriously.
"A health and safety officer has visited the school to investigate this matter and their work is continuing.
"The head teacher has briefed the parents involved and reports that they were satisfied with the actions taken by the school."