Dangerous driver Amanda Myles warned she faces lengthy jail term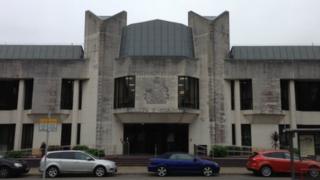 A driver who swerved on to a pavement to mow down two pedestrians - and carried one on her car bonnet - has been told she faces a lengthy jail term.
Amanda Myles, 34, was found guilty of attempting to cause grievous bodily harm and dangerous driving.
Swansea Crown Court was told she hit two people from behind in her Peugeot on Mansel Street, Bonymaen, last June.
Myles had shouted accusations at her victims previously that day.
CCTV at the scene showed Myles' victims being struck.
She claimed during the trial she had sold the car for cash to two men on the day of the incident.
But Judge Peter Heywood told her to expect a "lengthy" sentence next month.