Skomer and Marloes Sands on Lonely Planet holiday list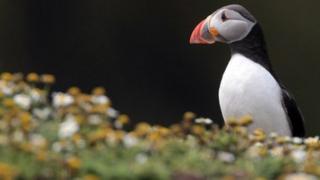 Two Pembrokeshire beauty spots have been named among the 10 best places to go in Europe for a family holiday.
Skomer Island and Marloes Sands are included in travel guide Lonely Planet's Best in Europe 2015 list.
Kent was ranked top, followed by County Kerry in Ireland, with destinations in Germany and Hungary also making the top five.
The guide said Skomer's marine nature reserve and 500,000-strong bird population were among its draws.
It also recommended visiting Marloes Sands - "a mile-long sweep of beach that does a vanishing act at high tide".
Europe's 10 Best Places for Family Holidays, by Lonely Planet
Kent, England
County Kerry, Ireland
Black Forest, Germany
Budapest, Hungary
Vorarlberg, Austria
Åland Archipelago, Finland
Ibiza, Spain
Normandy, France
Skomer and Marloes Sands, Wales
Bohinj, Slovenia